Flanges & Pipe Fittings
Om Flexibles offered wide ranges of Flanges and Pipe Fittings . Flanges are available in Slip On, Blind, Weld neck, Socket weld, Threaded, Lap Joint, Orifice and Spectacle Blinds, Tongue & Groove & Ring Joint Types, Vacuum Flanges, Exhaust Flanges, Profile Flanges and are offered in carbon steel to ASTM A 105, Alloy Steel to ASTM A 182, Carbon & Low-Alloy-steel to ASTM A 350, and Stainless Steel.
Om Flexibles offered various ranges in Pipe Fittings i.e. ELBOWS (LR/SR), TEES (Equal & Unequal) REDUCERS (Conc./Ecc.), CAPS, Nipples and Couplings in Socket Welding / Butt Welding / Threaded, Unions, Elbowlets, Weldolets as per ANSI B 16.11, B 16.9. Pipe Fittings are offered in Carbon Steel to ASTM A 234 WPB, Alloy Steel to ASTM A 234 WP, Low Temperature Carbon Steel to ASTM A 420 WPL & Stainless Steel to ASTM 403 WP Grade.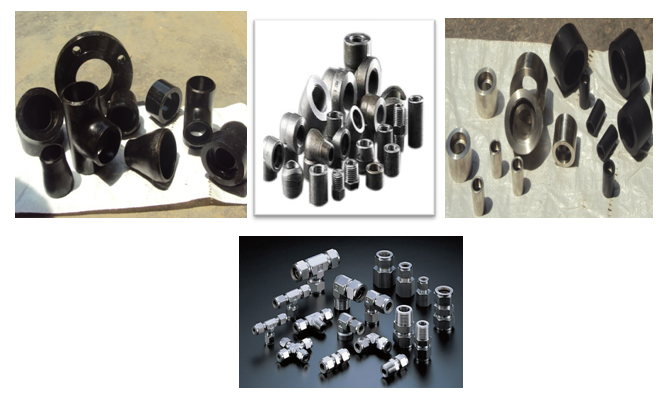 Stainless Steel: SS 304, 304L, 304H, 316, 316L, 316Ti, 310, 310S, 321, 321

Carbon Steel: ASTM A 234, Gr. WPB/WPBW

Alloy Steel: ASTM A 234, Gr. WP1, WP11, WP22, WP5, WP9, WP91

Types : Elbow, Tee, Union, Cross, Coupling, Cap, Bushing, Plug, Swage Nipple, Welding Boss, Hexagon Nipple, Barrel Nipple, Welding Nipple, Parraler Nipple, Street Elbow, Hexagon Nut, Hose Nipple, Bend, Adapter, Insert, Weldolet, Elbowlet, Sockolet, Thredolet, , etc.

Size : 1/8"NB TO 24"NB. (seamless & welded)

Wall thickness : sch. 5s to sch.xxs

Size : 1/8"NB TO 4"NB (Socketweld & Threaded)